Recently, I stumbled upon a question on the Session Lab forum that got me thinking. The question was, "Is anyone using Miro or Mural in face-to-face sessions?" The post asked about the potential advantages and downsides of using digital tools in in-person settings. As someone blending digital and traditional methods since 2012, I thought I'd share my experiences.
Whether you're a Stormz fanatic like me or just exploring digital tools, let's dive into how you can create unforgettable workshops by embracing the best of both worlds.
Low-Tech Isn't Going Anywhere
Back in 2018, I penned an article pouring my heart out about my love for low-tech tools and techniques. Guess what? It hasn't wavered a bit! Even I, the Stormz founder, use low-tech in 99% of the in-person workshops I facilitate through iLow, my boutique facilitation agency.
Why, you ask? Because traditional tools shine in these scenarios:
Authentic conversation & eye-to-eye connections: No brainer, right? Nothing replaces the spark of real human interaction.
Rapid fire brainstorming: For most, scribbling ideas on a sticky note still trumps typing (though, who knows what the future holds).
Inspiration in a deck: Card decks are my jam! Whether it's the Dixit cards or tailor-made ones, the tangible act of shuffling through a deck cannot be replicated digitally.
Scribble and scrawl: Doodles for visual thinking? Yes, please! There's a reason Stormz doesn't have a doodle feature: most participants struggle to draw anything remotely recognizable on a screen.
Hands-on building: Playing architect with Legos? A classic hands-on experience that doesn't get old.
Prototyping: Low-fidelity prototyping, even for digital products, is much better with physical props.
Serious games: Like the Product Box or my own Theseus, games are way more immersive when you can touch and feel the components.
So yes, low-tech, we're still head over heels for you.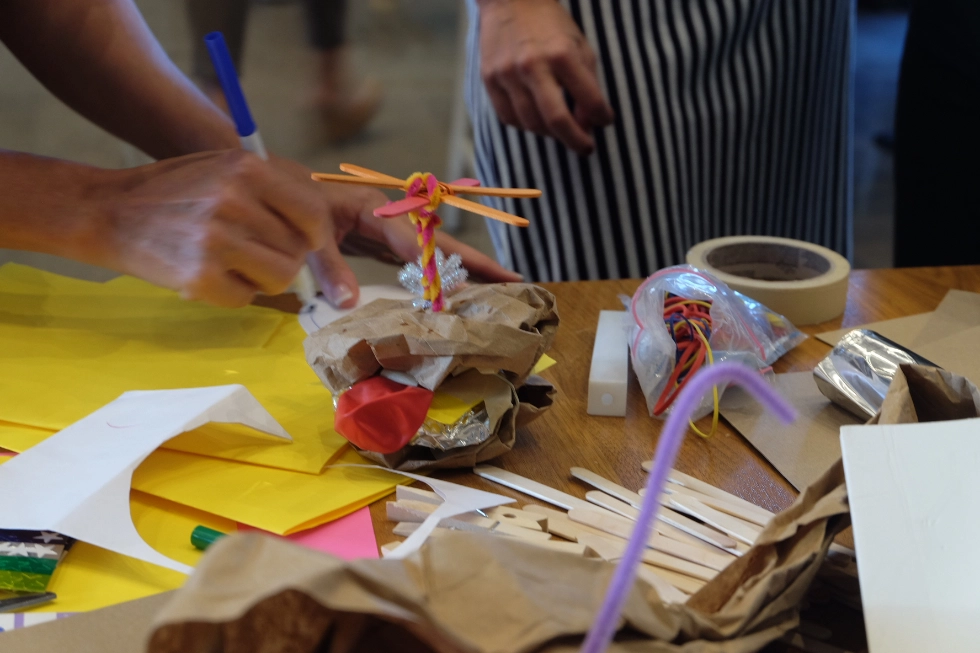 Digital Takes You Further
When it comes to certain aspects of facilitation, digital tools like Stormz have a clear advantage:
Efficient decision-making: Stormz simplifies facilitating a multicriteria evaluation, making the process quicker and data-driven.
Real-time visualizations: Benefit from dynamic displays such as voting results or insight clouds that keep everyone on the same page.
Large group facilitation: Stormz is well-suited for handling big groups, streamlining ideation, clustering, and convergence with dozens or hundreds of participants.
Anonymity: By keeping identities hidden during ideation, selection, and commenting, Stormz helps minimize biases.
Breakout sessions: Use Stormz to hone in on the best ideas and develop concepts in structured breakout sessions.
Data export: Stormz takes the hassle out of exporting results, saving time and effort.
Hybrid collaboration: Facilitate seamless interaction between in-person and remote participants with Stormz's tools tailored for hybrid setups.
Learn more about what you can do with Stormz Workshop features here.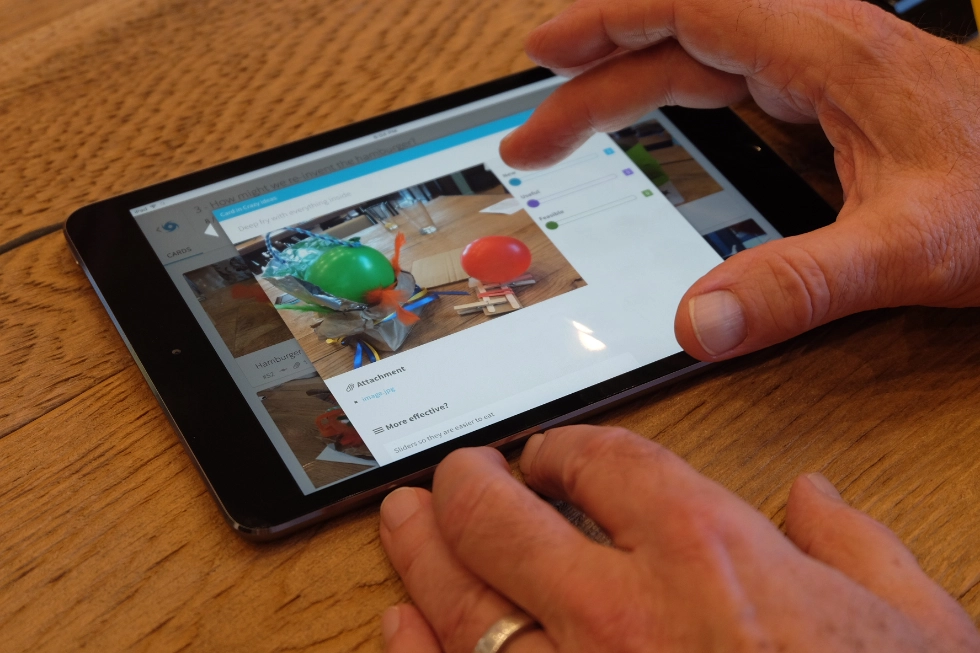 Get the Best of Both World: Marrying Low-Tech and High-Tech
Understanding the strengths and weaknesses of both toolsets is essential. But the real magic lies in blending them effectively to create a better collaborative experience.
In your design, mix and switch between high-tech and low-tech tools to maximize engagement. Evaluate the advantages and drawbacks; tailor choices to the context and schedule.
Integrate physical elements into digital tools: For instance, take pictures of photos and upload them to the digital tool to create a collaborative moodboard.
Digitally document insights gained through physical activities.
Incorporate physical movement to break screen fatigue: Encourage participants to stand up, move around, or engage in a quick physical activity. This not only helps to alleviate the strain of staring at screens but also re-energizes the group.
Be thoughtful about device numbers per participant. I tend to use one iPad for every three participants, though this can vary a lot depending on the context and constraints.
Be thoughtful about the types of devices: Mobile phones, iPads, laptops, or large touch screens; each has its own pros and cons. Choose the device that best suits the needs of the session and the preferences of the participants.
Using digital for a brief 10 minutes in a 4-hour session? If it's the right tool, go for it. Of course, opt for simplicity in this case. Use their mobile phone and the guest invitation feature.
Rapid brainstorming on the agenda? Rely on classic Post-it notes.
Curb digital distractions by establishing clear guidelines for device use. Prioritize interpersonal communication; employ screens with intention and restraint.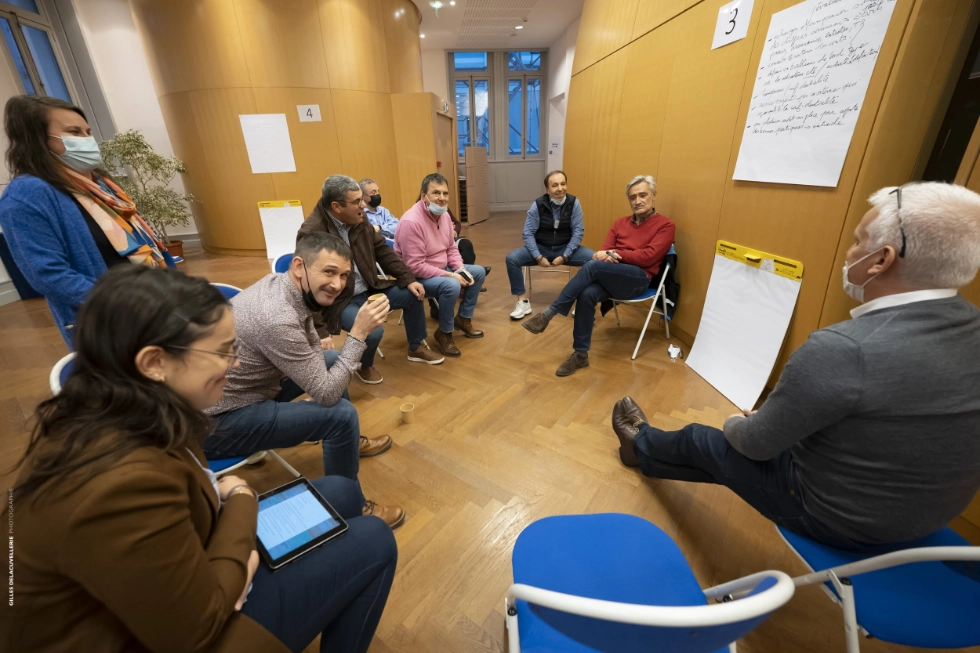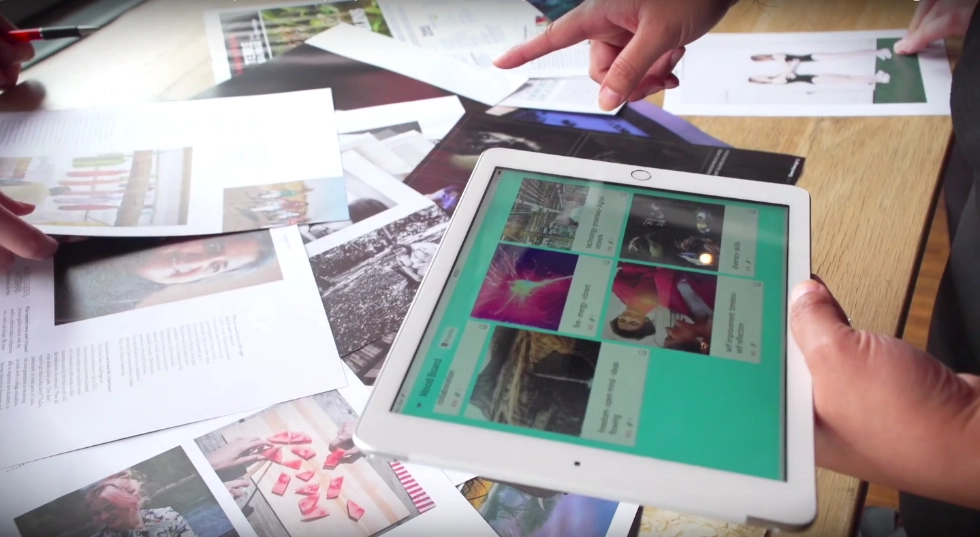 The Future is Here: Say Hello to AI Participants
Since 2023, AI participants have entered the scene!
Leverage AI smartly to challenge the status quo and spice things up.
Short on time? Use the AI clustering feature to expedite the first round of idea clusterization.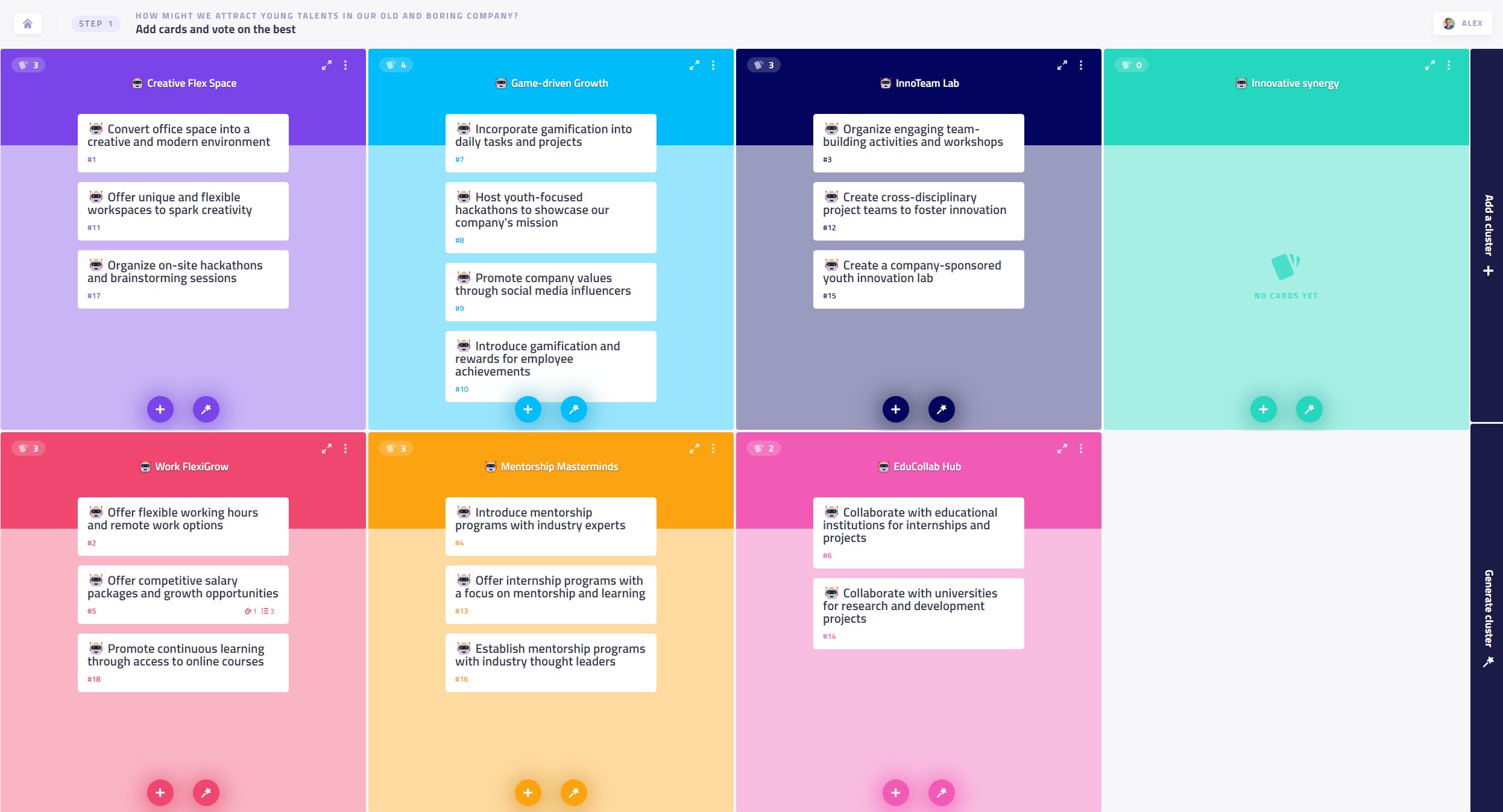 Conclusion: a New Skill to Acquire
Being a pro facilitator means always looking for ways to enhance our workshops. Designing the perfect blend of digital and traditional tools is a fun challenge and can raise collaboration and collective intelligence to new levels.
Don't forget to share this post with other facilitators who might find it useful. And if you're looking to equip yourself further, consider signing up for our my newsletter, where I share simple tips for facilitators and in-depth insights. Don't forget to follow me on LinkedIn and on Twitter as well!