You can manage a participant's role and access from within a workshop.
Open the participants sidebar,
Find the participant in the list, if necessary scroll down
Open the menu and select the action.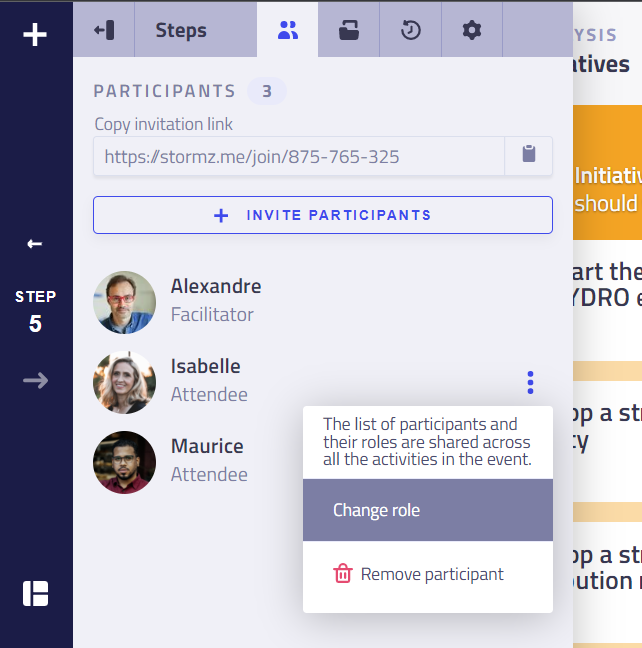 Assign roles in a Workshop
From the menu select Change role and pick a new role for the participant:
Attendee: by default, what they can do and see depends on the permissions and settings of the current step,
Observer: for participants who need to see everything at all time

can modify filters and sorting order (for themselves, cannot sync or save),
see the vote and rating results,
can open the activity sidebar,
can open the participant sidebar (but cannot manage participants)

Co-facilitator: if you need someone else to move the group from one step to the other

can do all an observer can do,
can move participants from one step to the other (but cannot change step settings),

Facilitator: can do everything, including:

⚠️modifying all the settings
⚠️deleting content
⚠️deleting the workshop
Note: the user who creates a workshop can only get the Facilitator role.
Learn more about roles in the invitation chapter.
Disable a participant
You can prevent a participants to access the workshop.
Learn more about disabling participants.
Remove a participant ⚠️
⚠️ Danger zone: removing a participant will also delete all their contributions.
You can remove a participant from a workshop.
Learn more about removing participants.